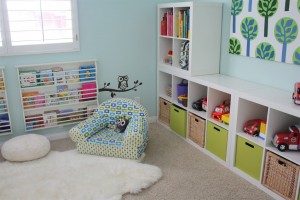 The most important thing a provider will need for a family childcare program is an abundance of love for children. He/she will also need a safe space, a nurturing environment, age and developmentally appropriate equipment and materials. He/she will also, need to comply with regulations.
Safe Space
Ensuring a space that is safe, hygienic and healthy will likely require gates/barriers, cabinet locks, electrical covers, smoke and carbon monoxide detectors, fire extinguishers, a first aid kit, and cleaning supplies to name only a few.
Nurturing Environment
Providing an environment that is nurturing, educational, inclusive and appreciative of diversity, will require space management, family engagement, routines, schedules, outdoor play, qualified staff, and professional development.
Equipment and Materials
A provider will also need age and developmentally appropriate equipment and materials for every child. These include items such as; high chairs, tables, chairs, cots, blankets, toys, books, art supplies, cubbies, cribs, walkers, etc.
Regulations
To comply with regulations for record keeping, and to help with tax preparation, requires attention to detail, organization, and budgets.
Supervising, educating, and caring for lively children will also require lots and lots of energy!